Places to Visit in North Carolina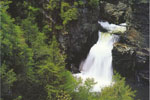 There are many area attractions that are fun for the whole family. The kids will enjoy visiting one of the many North Carolina Gem Mines around the area. And everyone loves to visit Grandfather Mountain, hike the trails and enjoy the beautiful views it provides. Tweetsie Railroad is also a family favorite - take a ride with the Indians! Linville Caverns is a wonderful attraction to enjoy and learn a little bit about caves and caverns. The Blowing Rock is also a nice place to check out and learn more about the Indian Folklore in the area and see that wonderful popular view.

With many forests and parks nearby, there's plenty of places to enjoy a picnic. Pisgah National Forest provides many wonderful places for outdoor activities. Or spend a few hours driving the Blue Ridge Parkway - there are numerous spots to get out and see the breathtaking views of the High Country. Linville Falls is not to be missed either - what an amazing waterfall!

Be sure to check out the great High Country Web Cams for live mountain shots from around the area's most popular places to visit. The Boone Weather and Blowing Rock Weather is always delightful and not matter what time of year there is always something to check out and a place to visit.